MMC series miniature slip ring
The miniature slip ring is a general name for a series of slip rings with very small overall diameter (5.9mm~15.5mm).
Product using the US military surface treatment process,ultra-hard gold plating treatment ,to ensure very low resistance fluctuation and long working life.
This series of slip ring mainly used for the transmission of small and medium systems weak control signal, weak current. Such as video,control, sensing, power supply, Ethernet, low torque, low loss maintenance free, low electrical noise.
Typical applications: unmanned aerial vehicles, camera, smart home,security monitoring, photography, robotics, test equipment, turntable and automation equipment.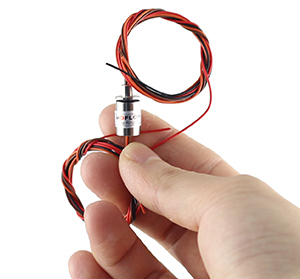 | | | | | | | |
| --- | --- | --- | --- | --- | --- | --- |
| MMC088 | 8.8 | 5.9 | 1~4 | Signal(1A) | 240 | |
| MMC118 | 11.9 | 5.9 | 1~8 | Signal(1A) | 240 | |
| MMC119 | 11.9 | 6.5 | 1~8 | Signal(1A) | 240 | |
| MMC181 | 18.2 | 11 | 1~18 | Signal(1A) | 240 | |
| MMC182 | 18.2 | 12.5 | 1~24 | Signal(1A) | 240 | |
| MMC195 | 19.5 | 12.5 | 1~36 | Signal(1A) | 240 | |
| MMC235 | 23.5 | 12.5 | 1~36 | Signal(1A) | 240 | |
| MMC397 | 39.7 | 15.5 | 1~24 | Signal(1A) | 240 | |
Havn't find standard size to fit my application?

1) View "Solution center", you can find much more specialized solutions.

2) Customize your dimension and Contact us : QQ 3039483299 or technical@moflon.com